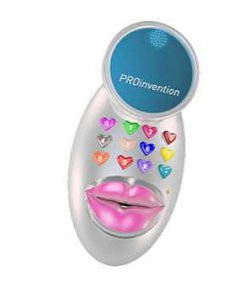 Apparently cell phone kissing is a hot activity in Japan. I had no idea. The kiss phone makes it easier to kiss your loved one from a distance via mobile. This isn't just video and making loud smoochie sounds either, the kiss phone from PROinvention can detect the intensity of the kiss. It senses not only the pressure you use, but also the heat of your lips and how hard you press or suck. (I'd say you suck pretty hard if you buy this phone)
Warning: Creepy territory ahead. Your partner, who also obviously has a Kiss Phone, just presses their lips against the fake plastic mouth of the phone…and they will feel the partner's simulated mouth on theirs. Yes, it has now come to sticking your mouth on plastic objects. If you like, you can also leave kisses on the answering machine, and replay them over and over, until your lips hurt.

You can also download or upload kisses on the web. Their site has a kiss bank with smooches from people like Madonna!
cell phone, female, girl, japan, kiss, love, phone, virtual