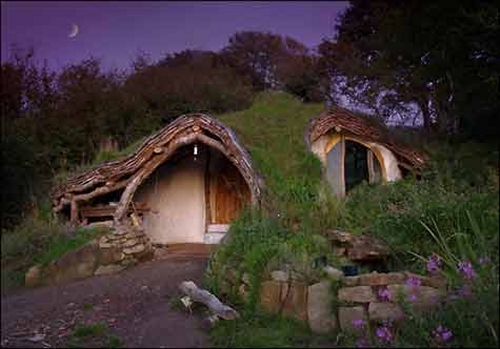 There's no stopping a true geek with passion and a dream. For a little Friday fun we scoured the web looking for the most impressive, geek-inspired homes around the world, settling on this list of the top 10 coolest geeky houses.

HOBBIT HOUSE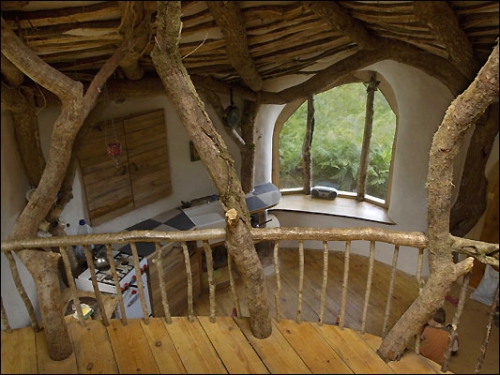 The first on the list was this Hobbit-inspired home built and lived in by a family somewhere in England. The walls and roof are made of mud and straw, cooking is done with gas and food is kept cold year-round in a 6-foot hole in the ground. This house lacks a lot of the modern conveniences with the most significant probably being the lack of hot water.

"RELATIVITY" HOUSE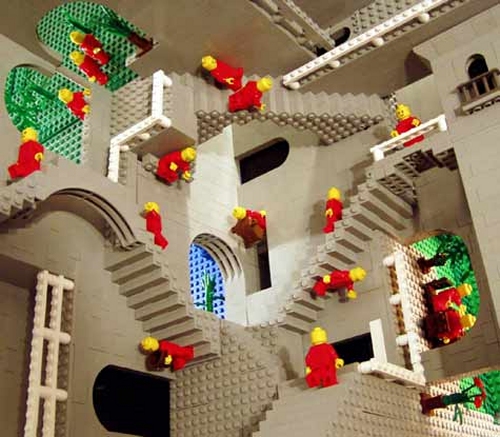 Now we fully realize that this is not a real house that people live in but it has parts that are in a house and it is definitely geeky. The creators here built "Relativity" in 3 dimensions out of legos.
STAR TREK VOYAGER APARTMENT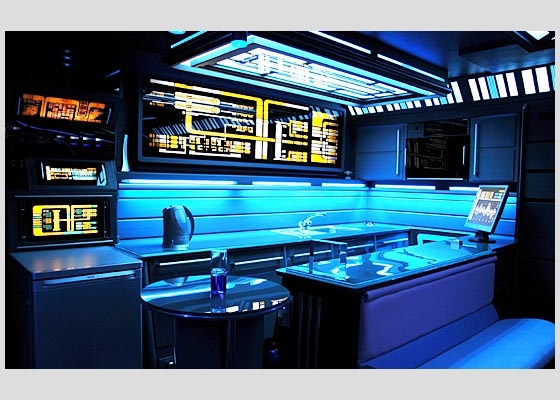 Take a look at this apartment which was transformed by Tony Alleyne of London into a Star Trek Voyager-themed home. Tony is a true Trekky and for sure a geek, and hand-crafted almost all of the items in this 500 square-foot space.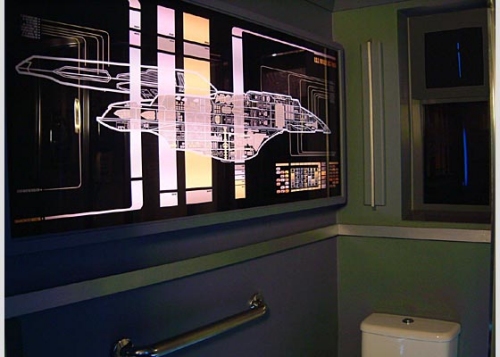 It took him about 3 years to complete and not only does it look the part but a lot of it works too, with a AEI security system, voice-activated lights, working light modules and special cooling systems to give it a space-ship feel. Yes, Tony is a bachelor and believe it or not his wife left him before he started the project.
SPACESHIP HOUSE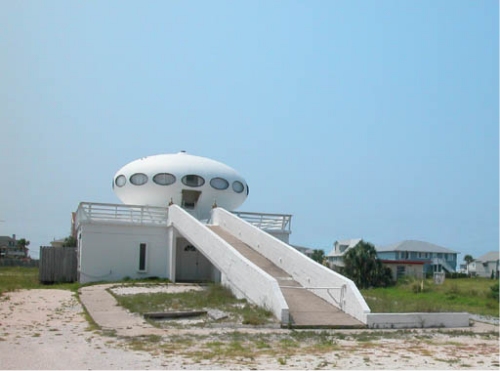 This spaceship house had to have been built by a true geek with a love of Sci-Fi. It sits on a beach in Pensacola Florida and has been available a s a vacation rental for many years.
ROTATING HOUSE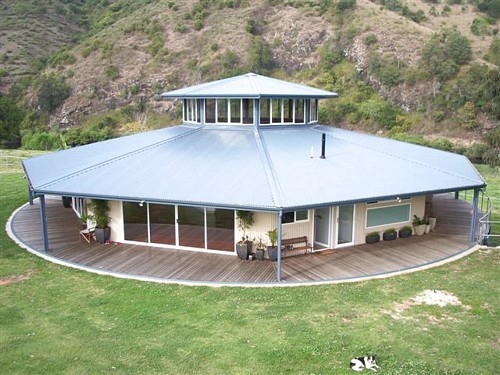 For most people, if you get a glare from the window on your big screen you just close the drapes. If you're a automation-loving geek you might get some blinds that close on their own. If you're an uber-geek you just make a house that rotates 360 degrees so you can change the view from your window without having to get out of your seat. After ten years of planning and 10 months of construction this 24 meter diameter rotating house became a reality.
FALLINGWATER HOUSE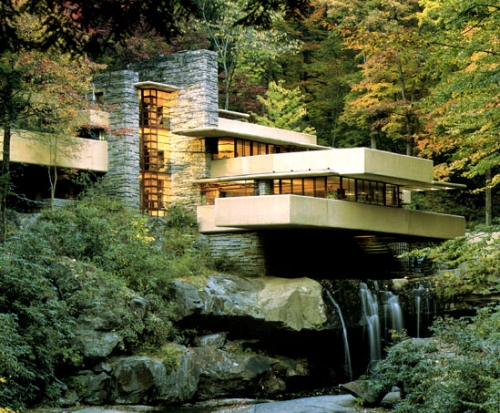 This list would not be complete without at least mentioning Frank Lloyd Wright's Fallingwater house. This home was built in the 1930′s around an existing cascade of waterfalls which still run through it today. This might not necessarily be a geeky home but I'm willing to bet Frank Lloyd Wright was a little bit of a geek at heart.

TOILET HOUSE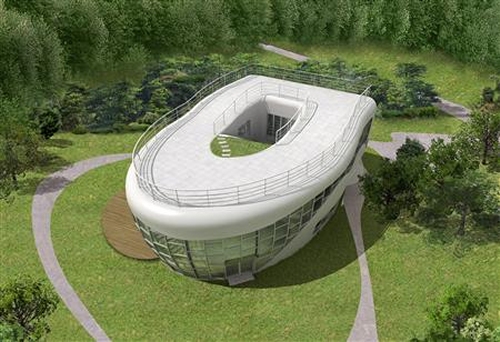 This is a real, $1.6 million home that was seriously built to look like a toilet. Sim Jae-Duck of Seoul was actually born in a restroom, intentionally, and built his toilet shaped home last November for the launch of the World Toilet Association. "Toilets were once regarded as stinking and dirty places. Not any more. They must be treated as the sanctuary that protects human health," Sim said.
THE FAB TREE HAB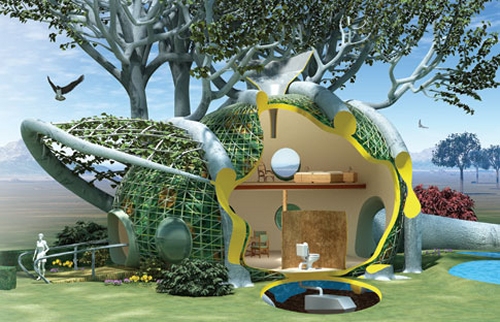 This Fab Tree Hab home is actually still in the conceptual stage but the folks at M.I.T. have put quite a little thought into it and the design is very impressive. The goal is to grow homes from native trees to create the structure and use pleaching to weave growth together tightly for walls, making a completely green home.



The trees grow over a period of about 5 years to create the base structure around it, and then use many techniques to manage water, waste and climate control once the structure is ready. This gives some new meaning to a "tree house" and to home appreciation since the home may increase is square footage with time!
Titan Missile Base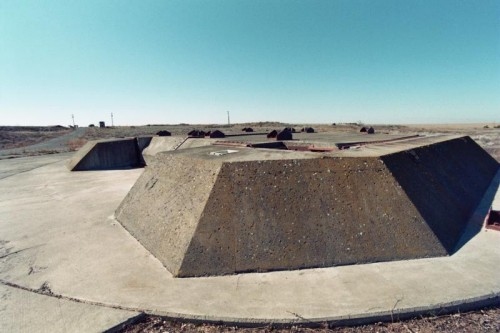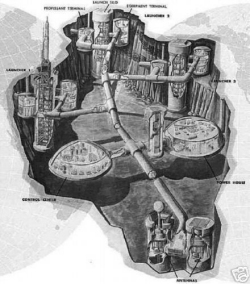 This Titan Missile Base is available for sale or rent in central Washington state. I guess we can't really consider this a house, or at least not yet. It's only because the right geek hasn't found it.
This abandoned missile base comes with 57 acres of land, 5 buildings and 4 silo tops that can bee seen from above ground, all surrounded by a barbed wire fence. Hidden underground there are 16 buildings connected together by thousands of feet of tunnels. Imagine the fun a person could have with a place like this if you had a some extra money and a little time to kill. Or if you just needed a place to start your evil layer or maybe store some missiles or something; it looks like the largest silo goes for $1,500 a month rent.
UPSIDE DOWN HOUSE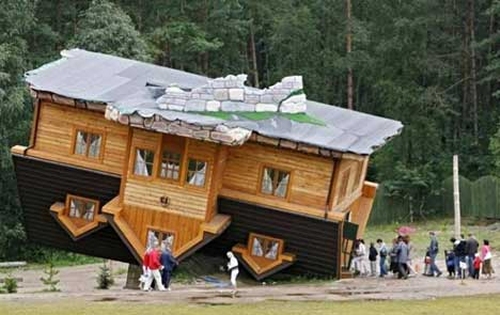 This last house comes from Daniel Czapiewski in Poland who built it not only as a tourist attraction to the tiny village of Szymbark but also as a statement about the communist era in Poland. The house looks like it's about to tip but it was built this away on purpose, apparently with quite a bit of confusion from the construction crew and visitors alike.
Geekiest houses, Homes, houses, Lists, top 10