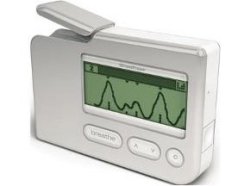 Everybody gets stressed. It's the nature of our fast paced civilization. The StressEraser wants to help. So just calm down, find your zen place and read on. Ahhh, that's better. Deep breaths. The device claims to be an an award winning biofeedback medical device. It's designed to calm your mind and relax your body in under 15 minutes. The idea is to focus your mind and guide your breathing by synchronizing it with a "calming" BreathWave patten. Daily 15 minute nighttime sessions have to be done before sleep to calm your nerves.
Stay in your special spot. We're almost finished. Picture yourself gently gliding through clouds. Your deep regular breaths are your propulsion…Holy crap! That jet almost rammed you. That couldn't have helped your nerves any. Back to the StressEraser. It can also be used during the day if you're feeling stressed. Measuring 3.75″ x 2.5″ x 0.6″, the device is designed to be carried around. I'll hope you're still calm, because the price tag is $299.

Sorry about the shock. I'm not really one to calm people down.
[StressEraser] VIA [Chip Chick]
gadget, Health, relief, reliever, stress