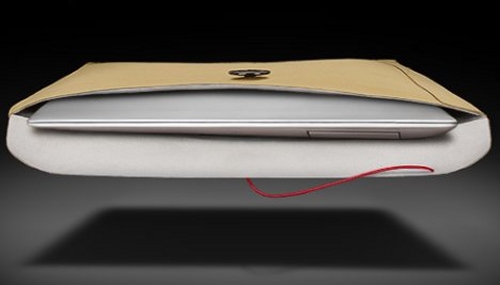 Taking a queue from the marketing folks for Apple's new MacBook Air, Timbuk2 has announced the Steve Sleeve. The thin case designed specifically for the notebook resembles the manila envelope that Apple uses in their commercials and that Steve Jobs used to originally present the Macbook Air.
Timbuk2 assures us that when the Steve Sleeve actually starts shipping in March we'll find that it's much tougher than a standard manila enveloper, however. It has a soft low-pile fleece lining (from recycle-ready poly no less), an exterior made from the same stuff as mountaineering jackets, ultrasonic welds on the seems and brushed (recyclable) aluminum buttons.
You won't be toting around the external SuperDrive along in this case, or any other accessories for that matter. But, you will have a pretty novel and protective case for you super-thin notebook, which you can then keep inside another more practical case when you're actually going somewhere. Timbuk2 has an email notification to announce in advance when you can make your Steve Sleeve order.
Timbuk2 via TreeHugger
Cases, macbook air, steve sleeve, Timbuk2