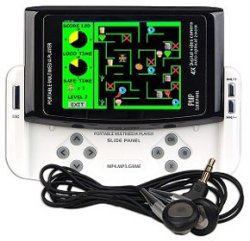 The Portable Slide Panel Digital Media Player has a design that makes it look like a game handheld. It's a video player with a 2.8inch LCD display capable of playing back MP4 and 3GP files. It also works as a MP3/WMA player, FM tuner, has ebook function, built-in speaker, and JPEG viewing abilities.
The coolest function is it's ability to play games, and it claims to support NES, GameBoy and GameBoy Color. Apparently via an emulator. The device also has a built in mic and a digital video camera. That's alot of cool features. Plus it comes with audio and video out cables so you can connect it to a TV. The only downside with this device is that they only give you 1GB of internal memory, but there is the typical SD slot for expansion. It will cost you $59.99, and they even give you a pouch.

That's not a bad price for all those features. The NES aspect will help you kill some time on the bus at the very least.
[Geeks] VIA [Chip Chick]
Digital Media Player, Games, handheld, nes, portable, Slide Panel