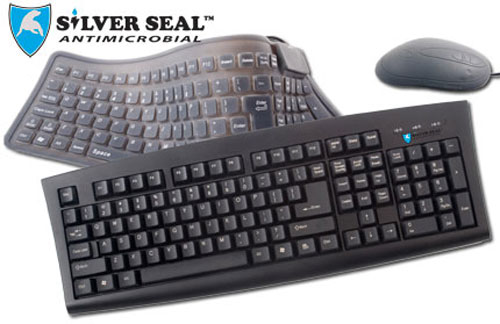 You work in an area, like a hospital, where contagious germs abound. Or, you are simply very germ phobic. Either way you probably wouldn't mind getting your gloved hands on a computer keyboard which is dishwasher safe. Meet the Silver Seal from Seal Shield, announced first last year and now available.
The Silver Seal keyboard is, according to Seal Shield, fully submersible, dishwasher safe and manufactured from special plastic. This plastic is antimicrobial, using "all natural" pure silver ions embedded in it to ward off germs. Silver is described as a "natural antibacterial product" – hence why it has been incorporated into the plastic.
If you want more details on the germ killing properties of this keyboard, you can certainly click the link at the end of the story for more details. Be warned though – you'll get some not so pleasant information on how computer keyboards and mice are a "major source of cross-contamination infections." Great – excuse me while I go hose myself down now.
Health, Keyboards, seal shield