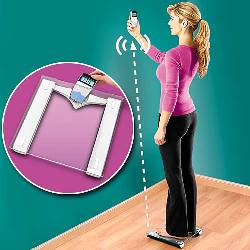 People hate stepping on their scale and having it tell them the honest to god facts about their weight. Women especially hate the evils of the scale. Well folks, this new device isn't going to improve the scale's image any.
I personally have never had any problem with the simple act of stepping on a scale and looking down at the numbers, but I can see how that might be a problem for some people, whether they are just cringing at the numbers or just can't see past their enormous girth. I can only presume that this device is geared toward the latter. With this scale, you won't have to try to circumvent your huge gut to get a look at the numbers. You can just read your weight by looking straight ahead at a remote.

That's right, another device that discourages you from actually moving and working that pudge off. Good thing too, because the wireless scale supports weight up to 400 pounds. Available for $39.98.
diet, Health, scale, weight