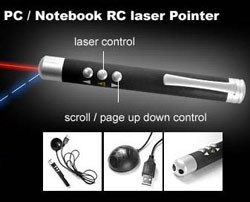 Another interesting product recently unveiled by importer SourcingMap is a laser pointer which pulls double duty as a wireless presenter control. It is called aptly enough the Red Laser Pointer Plus Laser Presenter and prices at around $13.
The Red Laser Pointer Plus Laser Presenter from SourcingMap acts in most regards like the type of laser pointer you use to distract people while a movie is playing. Where it diverges though is the scroll up and down buttons which are built into it. With these, and using the included wireless USB receiver, you can move back and forth through PowerPoint slide presentations without needing to have some moron click a mouse.
Range on the Red Laser Pointer Plus Laser Presenter is around 15 meters. It will work with Windows and Mac operating systems and is powered by three button batteries. SourcingMap of course also recommends you not point the laser in someone's eye. Damm!
SourcingMap Red Laser Pointer Plus Laser Presenter
laser pointer, Office Gadgets, powerpoint