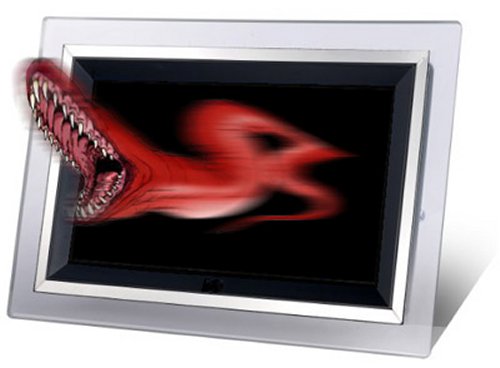 Has there been a week recently when China-made products have not been in the news? Normally it's tainted food and toxic lead. Now it's a malicious virus-infected digital photo frame. Computer Associates identified it as Mocmex , "a nasty worm that has a great deal of intelligence" and "a nuclear bomb of malware".
It's a malicious self-propagated worm that has been steadily spreading worldwide with variants of over 67,500 kinds. That's cause for some concern. It was first identified as a Trojan horse that collected passwords from online games, but after further study, it's able to get around more than a hundred antivirus vendors as well as Windows security layers. Now it could potentially collect personal and private data.

Apparently, they've found more than four other trojans in different brands of photo frames that are being sold at Best-buy, Costco, Target, and Sam's Club.
Best Buy, costco, frame, malware, photo, sams club, Target, virus, worm