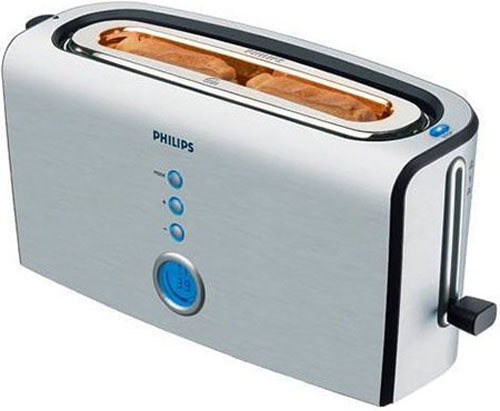 How much power does one really need to toast a piece of bread? Philips seems to think the answer is a lot – 1200 watts to be exact – and wants to sell you its HD2618 toaster for around $120.
1200 watts sure does beat the toaster your grandparents used to use. Not only is it high voltage but also digital – you've got a LCD display with digital countdown timer, automatic safety shut off and a cool one-sided toasting option for bagels and the like.
The Philips HD2618 also has a nice modern look to it with sleek lines and anodised aluminum. Sort of beats out that Hello Kitty Toaster I had my eye on.

Philips HD2618 [via OhGizmo]
Kitchen, Philips, toasters