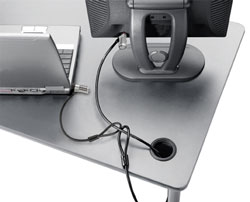 PC Guardian, a company which designs security products for computers, announced today an expansion of Master Coded Combo lock offerings for securing your computers and monitors when you get up from your cube to head to work. These security systems are available now in over thirty different configurations.
PC Guardian added five new models to its workstation configurations. All make use of the company's Ezolution security solution. One is a two piece design for securing a laptop and monitor with the included ability to unlock the laptop independently from the monitor. The other is a one piece solution with two locks, permanently securing a monitor and a desktop computer.
PC Guardian said its products secure over a million computers worldwide. It solutions make use of "patented technology" to attempt to provide maximum tamper protection.
pc guardian, Security