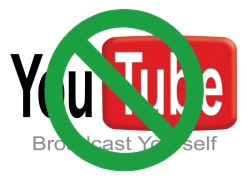 The government of Pakistan has today ordered all local internet providers to block access to Google's YouTube video sharing site "until further notice" due to offensive content. According to officials, the YouTube website contains cartoons depicting the Prophet Mohammad which angered a large number of Muslims.
The same cartoons were published earlier in a Danish newspaper which led to protests, rioting and eventually more than 50 deaths in countries including Pakistan. Internet surfers in Pakistan trying to access the YouTube site were met with a simple message saying the site was unavailable, with the local ISP's unable to restore access despite upset users.
We here at the 'brick don't agree with publishing content that's offensive to any group, but we're wondering if they could have just banned or removed the offensive cartoons instead of banning the entire YouTube site. With all of the copyright protection tools Google bragged about last year you would think they could identify and remove this specific content. We were able to find what we feel are the cartoons in question in an number of other places, but due to the recent uncovered plot to kill the original cartoonist we're going to just let you find them yourselves.
Google, online videos, Pakistan, YouTube