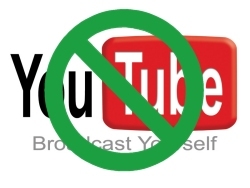 After removing video clips that were deemed as offensive to officials in Pakistan, the country decided to lift a country-wide ban on the YouTube website that it had imposed last week. The popular video sharing site had videos of cartoons originally published earlier in a Danish newspaper depicting the prophet Mohammad in which Pakistan lawmakers described as "blasphemous".
Pakistan officials ordered not just the videos to be banned, but the whole YouTube website to be cut off from any internet surfers in Pakistan and ordered all ISPs to deny access to the site. In doing so, whether accidental or deliberate, Pakistan Telecom managed to reroute requests for YouTube IP's worldwide, causing users around the world to be denied access to the site for about 2 hours until the issue was resolved.
Google and YouTube were later able to remove the offensive videos and convince Pakistan lawmakers to remove the ban. Now residents of Pakistan are now free to use and view content on YouTube again, much like users in countries such as Thailand, Morocco and most recently Brazil. All of these countries had also banned the YouTube site and were convinced to again allow access at a later time.
Google, News, Pakistan, YouTube