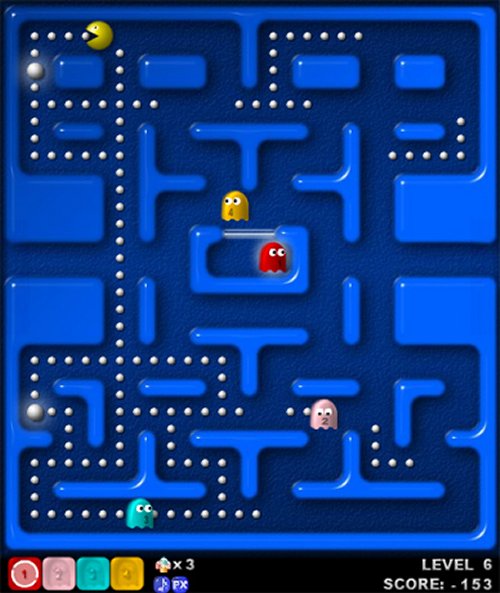 What the hell? A planet where apes evolved from men? Not exactly, but a twist just as mind bending. This is a world where, instead of Pac-Man being chased by ghosts, you control the ghosts as Pac-Man comes after you. That's the idea behind this new Flash game called "Anti Pac-Man".
Kind of a squad based version of the old classic. You use the 1 through 4 keys to select and take command of each ghost, then you use the arrow keys to guide them through the maze and avoid the yellow dot eater. Thing is, while Pac-Man is gobbling up dots, your score goes down. By keeping your ghosts alive, you can minimize the damage and keep him from chomping more. Personally I can't help feeling a bit like Charlton Heston at the end of Planet of the Apes. It's just unnatural.

You finally did it. Damn dirty apes ghosts!
[Sugar Free Games] VIA [Technabob]
80s, Arcade, flash, ghosts, Pac Man, retro, video game