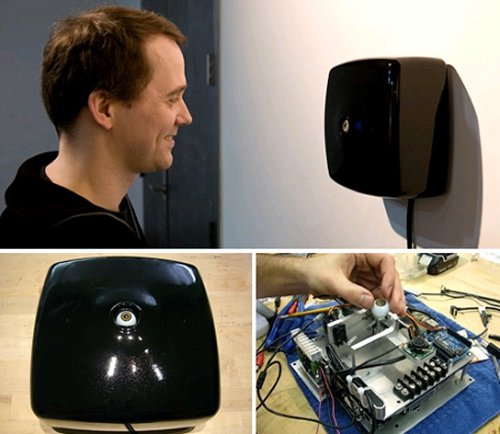 The Opto-Isolator is a black box prototype that seeks to incorporate robotic technology into artwork to make it more lively and interactive. The idea is that one day soon, there will be some artworks that can exchange eye contact with human beings. The eye mounted in the center of the black box responds to the gaze of whoever is staring at it and stares back.
It has a bunch of psycho-social eye-contact behaviors like looking into the viewer's eyes directly, studying the viewer's face, or looking away coyly when it's been stared at for too long. It could be part of human or animal sculptures. Check out a video after the jump.

Kinda creepy, like those Jesus paintings where th eyes follow you, but in this case they really do!
art, eyes, follow, Opto-Isolator, robot, sculpture