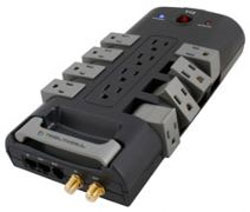 You've got lots of wires coming off of your computer station as you read this. They each have a different size AC plug, providing no end of headaches to your standard white power strip. One possible solution to this issue is Tributaries Cable's new T12 power strip with rotating outlets.
The Tributaries T12 has twelve outlets, eight of which can rotate up to 90 degrees. That's nice for supporting your different AC plug sizes. The T12 offers up 4320 joules of surge suppression as well as signal-line protection for telecomm (RJ-11), network (RJ-45), and cable, antenna, and satellite (F-connector) signals.
Other features of the T12 include a pair of LEDs indicating the status of its operation and a rating of 15 amps for up to 1875 watts of load. Pricing is around $120 and availability is now.
Power Strips, tributaries cable