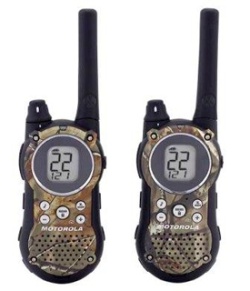 There are just those times out in the field when you're hunting any standard old two way radio won't do the trick. When that happens Motorola wants you to instead reach for your new camouflaged Motorola Talkabout T9650RCAMO, complete with game call buddy tones and pricing at around $120 per pair.
The Motorola Talkabout T9650RCAMO is designed to blend in with what Motorola assumes you are wearing while you hunt: camouflaged clothing. So you don't potentially scare off your intended Bambi kill when radioing your hunting partner, you can use one of five "game call tones" so you can identify yourself. These tones include duck, turkey, elk, goose and coyote.
Other convenient features include speech activation, vibrating alerts, weather information, a range of 28 miles and a dual power option of AA batteries (27 hours) or rechargeable (9 hours). These radios should be available soon.
Motorola, Two-way Radios