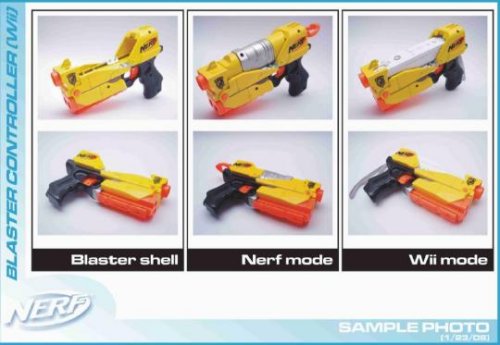 Nerf and the the Zapper now have a love child, thanks to a new partnership between Electronic Arts and Hasbro. They've revealed Nerf N-Strike for the Nintendo Wii and DS systems, along with a Wiimote-based Nerf blaster. Nerf's Wii blaster isn't the usual Nintendo Zapper clone. That's because it doubles as a functional Nerf dart gun. Just stick the Wiimote in the Nerf gun grip and it becomes a game controller, or load it with a Nerf blaster module to fire foam darts at your friends.
The Nerf N-Strike games and the blaster are scheduled to ship in Fall 2008. There should be more details from Hasbro at next week's Toy Fair in New York. Here's an idea, maybe they can shove a Wiimote in a Nerf football and have it communicate with the Wii.

Just when you thought you had seen everything in Wii weaponry. I wonder what's next.
game, gun, nerf, nerf N-strike, Nintendo, Wii, Wiimote