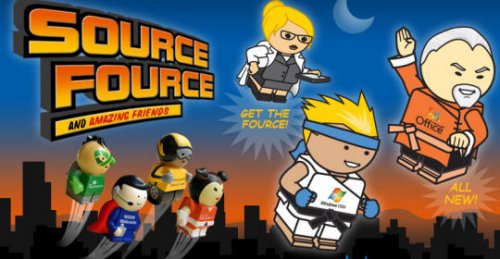 In case you might have missed it, Microsoft has been in the action figure business for about two years. It was easy to miss. MSDN, the Microsoft Developer Network, recently announced the latest members of the Source Fource, limited edition, collectible mini-action figures based on Microsoft development and software products. They're tiny and plastic, resembling LEGO figures. The characters include "Windows Vista Sensei," "Office Master," "ISV Server Gal," "Virtual Labs Guy," "SQL Server Gal," "Visual Labs Guy," and "MSDN Webcast Guy."
You won't be able to get these figures in stores however. The two latest figures, "Windows Vista Sensei" and "Office Master," will only be available to the first 5,000 users attending at least two MSDN webcasts or those who complete at least two MSDN Virtual Lab courses between March 15 and April 15. The other figures were released in 2006 and can't easily be found either. Pretty strange stuff. You figure they would want to market these things and put them on store shelves, since geeks have money and all.

If you want to find them you'll have to hunt them down. Good luck.
action figures, Microsoft, Windows