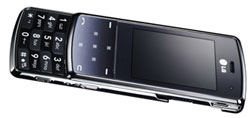 LG announced ahead of an upcoming mobile phone conference a new phone which looks rather stylish. It is called the LG-KF510 – no word on specific pricing or region availability at this point.
The LG-KF510 is described by LG as an "extremely slim slider phone." It has a metal frame, tempered glass and will be available in two colors – gray and red. It will reportedly also offer "advanced touch technology."
LG also plans to have as features for this mobile a 3-megapixel, multi-function digital camera and a MP3 player. We expect more will be announced later this month.
LG, Mobile Phones