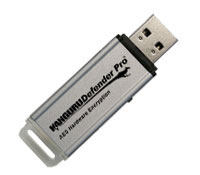 Having a USB flash drive which is tamper proof and hardware encrypted can be a good thing for those paranoid about their personal or business data. To that end Kanguru Solutions is introducing the Kanguru Defender Pro, priced at around $130 maximum for a 4GB flash drive.
The Kanguru Defender Pro comes in 1, 2 and 4GB storage capacities and looks like your typical USB flash drive. Kanguru says this drive differs from others in that it offers "high-level" hardware AES encryption and an aluminum casing which is reportedly rugged and tamper proof. This casing makes it much more difficult to remove the drive's chip without it breaking and becoming unreadable.
Other features of the Defender Pro include unique identifiers, serialization and security colors. This is in addition to password protected storage. This USB flash drive is now available.
flash drives, Kanguru