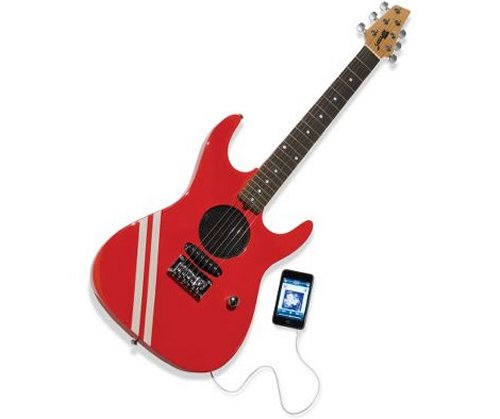 When Guitar Hero and Rockband aren't enough to satisfy your poser urges to emulate rock stars, this guitar will fill some sort of void in your life. It's a 3/4-scale electric guitar that connects to your iPod or other MP3 players, allowing you to play along to the music thanks to the built-in 4-inch amplifier/speaker.
The guitar has a solid basswood body, maple neck, and rosewood fingerboard. A truss rod allows you to adjust string action for easier chording. It also has precision machine heads and a single-coil pickup, volume control knob, and a standard 1/4″ output so it can be plugged into a standard amplifier if you like. For $199.95 you get a guitar strap, digital tuner, cables, plectrum, and carrying case. Includes a 9-volt battery that supposedly gives you six hours of operation.

Look out Peter Frampton. Another couch potato will soon be strumming in his jammies.
[iPod electric guitar] VIA [Geek Alerts]
band, digital, guitar, instrument, iPod, MP3, music