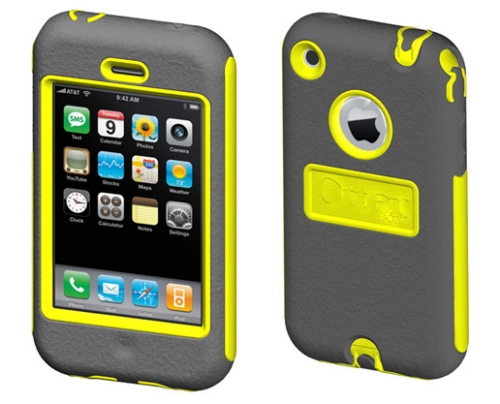 In honor of our current contest, Otterbox sent me their Defender case for review. Keep the funny comments coming guys(and gals), you have until midnight on Valentine's day to enter. I have to say, you people are really surprising me with your creativity. Now, on with the review.
The Otterbox is probably the most rugged iPhone case I've seen. Comprised of plastic and rubber, it couldn't be easier to install. It will protect not only the body, but the screen as well. It's water resistant NOT water proof.(Don't go swimming with it, ye of withered braincells) I found it interesting that the Defender actually protects the headphone jack, serial jack, speakers and mic, helping keep any debris safely outside.

Another detail that I was impressed with was that it even has a small window just large enough to reveal the Apple logo on the rear of the iPhone. You can still access the buttons through the Defender's rubber casing, which is a plus. Overall, I was very impressed and very pleased. At first I thought that the added weight and size of any case would make it weird, but nope, it was cool. I have to call it a very useful protection device.
Don't forget. You have until midnight on Valentine's day to win one for yourself. Keep the comments coming in, some of which are so funny, you have occasionally caused us to wet ourselves or otherwise find soda up our noses.
case, contest, defender, iPhone, Otterbox, Review