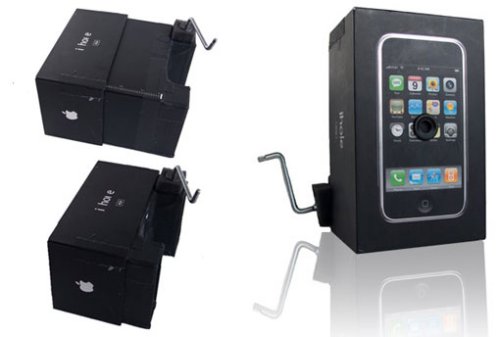 Still have that iPhone box laying around? Have some spare time? I have just the project for you. Create a box camera. Scot Hampton did just that and thus the iHole was born, a pinhole camera created using his roommate's iPhone box. In a scene that must have made MacGuyver proud, he used nothing more than the iPhone's packaging, some tape, tinfoil (for the lens), a piece of foam, and a leftover screw and tightener from an old Ikea desk.
Congratulations Scot, you have created a low tech camera from the world's most high tech device. He also used the cardboard lining from the inside of the original box to construct the film holders you see on the back. It should also be mentioned that Scot is very considerate. He left the serial numbers intact, so that if his roommate ever needed to return it he could.

Good work Scot. Uh, gee when I loaned ya my box I just figured you wanted to look at it. No,it's cool. I like it. God, this is awkward. STOP TOUCHING MY STUFF SCOT. Other then that it's cool. I like it. SERIOUSLY…We've had this conversation before.
[Scot Hampton] VIA [Gadgettastic]
TAGS:
box, camera, DIY, ihole, iPhone, mod