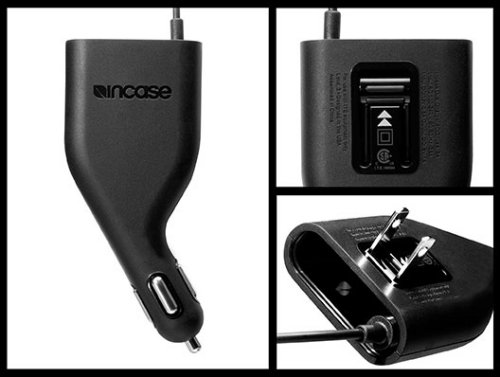 You just have to love these gadgets that seem so simple and are so handy. InCase launched a new 2-in-1 charger for Apple's iPhone and iPods which doubles as a wall charger and a car charger.
The Incase 2-in-1 Wall & Car charger has the connectors to connect to a wall outlet, which can then fold out-of-site when you want to transport it or instead use the cigarette lighter adapter for charging up your iPhone in your car. No more need for carrying two chargers around when you travel.
The charger will handle 12V and 24V power supplies for DC connections and the AC is compatible with voltage capacities from around the world. It also has 5-foot cord and a LED charging indicator light. The 2-in-1 charger from Incase retails for $39 which is more than most chargers that are just for outlets or car adapters but the convenience makes it worth it to us. It's expected to be available sometime by then end of this month from the Apple Store.
2-in-1 charger, auto, Chargers, incase, wall