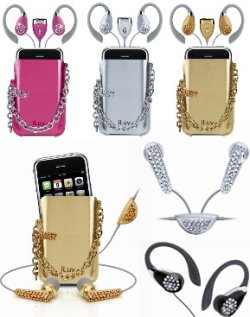 Today, iLuv revealed a bunch of new ipod and iphone accessories that are all about the bling. These are perfect for Paris Hilton types or the super girlly. Valentine's day is upon us, so if you guys have some serious apologizing to do with your girl, or if you are just looking to score some points, you know what to do. The i80 series of headphones and cases should do the trick. One of the new earphones is the i83 Crystal In-ear Earphones for $39.99 with In-line Volume Control and the $39.99 i84 Crystal Ear Clips.
There's also two accessory packages that come with matching earphones and case. The golden i80 accessory package comes with Crystal In-ear Earphones with In-line Volume Control and a matching holster Case for the iPhone and is priced at $69.99. Next is an i82/i81 combo that combines Crystal Hands-free Ear Clips with In-line Microphone and Volume Control with a matching Holster Case for your iPhone at the same price. The accessories are available in gold, pink or silver for $69.99.

These are some seriously bejeweled accessories. In fact it looks like someone went a little crazy with a Be-dazzler.
Accessories, case, crystal, earphones, gold, iLuv, iPhone, iPod, jeweled