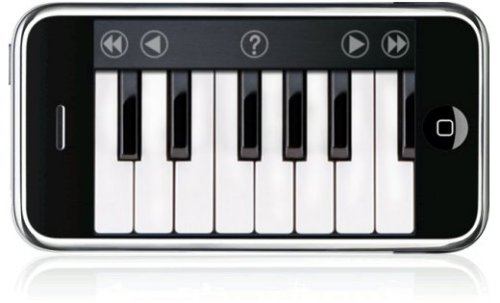 First there was the pocket guitar app that turned your iPhone into a guitar, now the iAno iPhone app that turns your cellphone into a piano. It won't be long before iPhone users will be able to meet up in their mother's basements and play an actual gig. Check out the video after the jump..
iAno will install on Jailbroken iPhones and basically gives you a fully functioning multitouch piano in the form of a four-octave keyboard. The arrow keys at the top are used to navigate. It was developed by one Mr Aardvark, who gave it polyphonic sound that allows five key presses to be heard simultaneously. He plans on updating iAno with a complete 88-key keyboard, and other cool features. So whether you want to be the next Elton John or Barry Manillow, carry your piano with you.

Dear God! Please not another Elton John or Barry Manillow. Please!
[Technabob] VIA [Gizmodo]
app, application, iPhone, music, piano