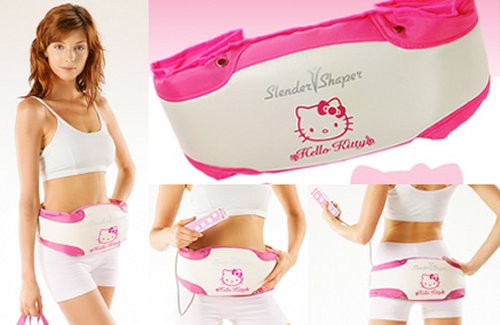 The pink angel of the apocalypse is at it again, still bent on world domination and bending young women to it's will. But I have to say, if Hello Kitty is trying to win me over with the above pic, I'm nearly there, dorky belt and all. That's because at first glance this device seems to rid well shaped women of their clothes, put a pink Wiimote in their hand and give her protective padding for the workout I have in mind. I'm obviously under the Kitty's influence, so let's move on.
This is the Hello Kitty Slender Shaper and claims to burn off fat from your midsection with a shaking action. And, as mentioned, comes with a Wiimote of sorts, so you can shake your groove thing faster or slower with just the push of a button. The entire package, with carrying case will cost about $127.52.

There's just something about a half naked woman with a pink wiimote and puffy belt.
[TV Shopping] VIA [Dvice]
belly, belt, Burner, exercise, fat, Health, Hello Kitty, slim, weight