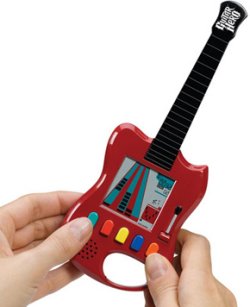 I guess if you want Guitar Hero on the go or if you are a Leprechaun wanting to play the game in your size, you are in luck my friends. This miniature version was created by Basic Fun, and it looks like they got Activision's approval. It's called the "Guitar Hero Carabiner," and it will make it's debut next week at the International Toy Fair in New York.
It measures in at only 7.75 long and 3 inches wide, though the neck can fold down to cut its length in half. The carabiner also has the ability to dangle from your bag or backpack, in case your pocket real estate is already full with a DS and the like.

With a bit of practice, nobody will be able to rock a tiny playskool looking guitar like you.
[Chip Chick] VIA [Crave]
Carabiner, game, guitar hero, handheld, portable, small, toy