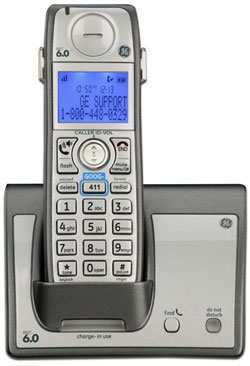 Normally we give traditional wireless home phones about as much attention around here as talking moose heads on the wall, but when the New York Times points out one which might be cool we have to check it out. They in fact seem to be right – the forthcoming GE Premiere DECT 6.0 28821FJ3 has a nifty GOOG-411 button centered for you to press for business information calls.
GOOG-411 you say? Isn't that a Google property? That's right – Thomson and Google inked a little paid attention to deal at CES last month which brings the one-touch, auto-dial GOOG-411 button functionality to a number of its 2008 DECT 6.0 Interference Free phones. This feature is tied to Google's free, voice-activated, business directory assistance service and will actually be part of more than a dozen GE phones, available in April.
When one hits the button, you get connected to the Google 411 service, which uses speech recognition to help users find and connect to businesses from their phone. Connections are done for free, leaving your telephone provider out in the cold when it comes to collecting directory call fees. That sounds great to us.
GE Google Phones [via New York Times]
GE, Google, Telephones