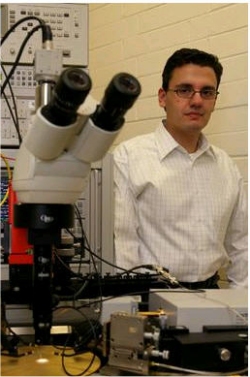 The University of Melbourne announced on Friday a new technology they are calling "GiFi", which promises some serious game-changing wireless transfer speeds for all types of consumer gadgets. The tiny silicon chip invented by professor Stan Skafidas is able to move data through the air as fast as 5 gigabits per second at a distance of just over 30 feet.
This short-range wireless technology would potentially be a competitor or more than likely a replacement for WiFi, and things like Bluetooth might want to look out as well. The transfer speeds combined with the constantly increased storage capacities of small handheld devices could really take media down some new avenues as well. The Age newspaper uses an example of transferring a high-definition movie from a kiosk at a store to your mobile phone in seconds. Then that same movie can be transferred just as quickly from the phone to your home computer or entertainment system to watch.
According to the U. of Melbourne, the chip is very small at only 5 millimeters per side, has a 1mm antenna, uses just two watts of power and they estimate it would cost less than $10 each to build. It also uses the 60GHz "millimetre wave" spectrum which is not as crowded as the spectrum that Wi-Fi uses, competing with things like cordless phones.
The chip still has about a year of work left on it before it becomes a reality. Skafidas says they still need to work on how data gets injected into the transceiver.
The Age via ZDNet
GiFi, Science, wi-fi, wireless