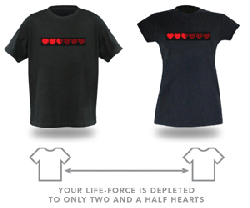 Are you the kind of couple that dress up as Zelda and Link and hit the convention circuit? Maybe you're the type of person who can't get enough Twilight Princess game time in, and when you do, you pick up as many hearts as possible, even if your heart containers are full, all the while thinking about your significant other.
If that describes you and your main squeeze, I have your new shirts right here. These shirts come in pairs and during the normal course of whatever the hell it is you do, two and a half pixelated hearts will light up. But when you get within hugging distance of your significant other geek wearing the matching shirt, suddenly the hearts on both shirts light up until you're fully powered up.

Aaaah…I need to stick my head in a Piranha plant so you two can get on with it already.
gamer, geek, hearts, Nintendo, shirt, zelda