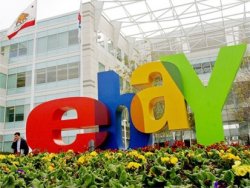 People all over the internet, all over the world, are seriously pissed off at Feebay at the moment. So angry, that there is boycott starting on Monday to protest changes the auction site has made to the way feedback is handled, among other things, like raised fees, sellers standards, and the way search works. There are a ton of people who make their living on eBay and are hard working people. They fear the changes, which seem "unwarranted", would make it harder for them to depend on eBay for income.
The straw that is breaking the auction giant's back is that the new feedback system would allow buyers to leave negatives for sellers, while sellers can not do the same should a buyer deserve it. This threatens the already fragile reputation system. People just can not fathom such a Forest Gump type move. Many admit that the feedback system is already flawed, but many sellers think this change is going in the absolute wrong direction.

Who knows if the boycott will do any good, but it is generally agreed that the site has gone downhill over the last few years and their numbers have suffered bigtime. I can't say I blame the users for protesting. I am personally aware of several horror stories that happened to friends. Only time will tell.
[Auction Bytes] VIA [Crunchgear]
auction, boycott, eBay, ebay sucks, feebay, feedback, strike