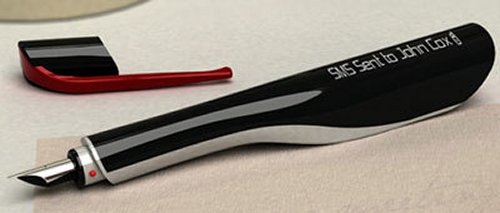 How do you update the pen? It's been around for centuries, but hasn't really changed in awhile. Well, one way to update it is to integrate texting and email. The D:Scribe is a design concept from Reuben Png. Similar to Bluetooth pens, it will track as you write, then just circle the person's name and the text or email is sent digitally via a Bluetooth phone.
You can also access everything you've written later because it's all stored in the pen. The message status is shown on a OLED screen. The pen has always been mightier then the sword, and now it will have texting as well.

It remains to be seen whether something like this could be popular or not. I guess we'll find out someday soon.
[Yanko Design] VIA [Tech Digest]
dscribe, email, messaging, sms, text