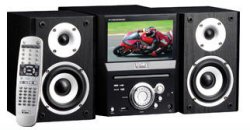 Cube3 is a 7 Inch DVD/TV Entertainment Center combo. Super nice looking and flexible. It will play your DVDs and even has one of those clever USB slots in front so you can hook up your MP3 player. It will even rip your CDs to the USB stick which is a nice feature. It can get quite loud for it's size as well with the 60W RMS speakers.
The cube3 integrates those other features together with a digital TV. But it doesn't have to be all about movies. Use it to view your photos and pictures on-screen like a digital photo frame. Playback compressed DivX or MPG4 videos from an external hard drive or USB flash drive. For it's size that's several great features that you want in a Hi-Fi system.

It will only cost you about £119.99.
[Product Page] VIA [Red Ferret]
center, cube, cube3, DVD, entertainment, MP3, music, tv