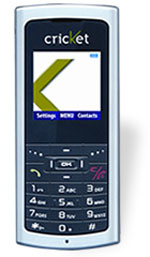 Cricket Communications is unveiling as part of its line up of consumer mobiles a new entry level model. It is called quite simply the Cricket EZ and prices at around $50.
The Cricket EZ is a typical candy-bar style cell phone developed by CalComp and equipped with VIA Telecom's cdma2000 1xRTT baseband processor. It measures 4- x 1.7- x 0.5-inches and sports a 128×128 color LCD display. It comes with polyphonic ringtones and wallpapers.
Other features of this basic phone include SMS capabilities, a rubber keypad with blue LED and a weight of 2.4 ounces. It is available now.
Cricket, Mobile Phones