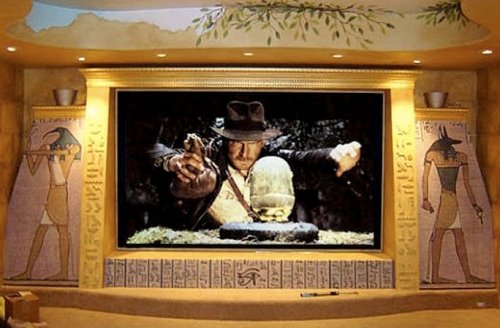 When geeks set out to make home theaters, the results are often astounding, with some very cool themes. Often based on Sci-Fi flicks, these amazing works of art are expensive labors of geek love. I proudly present some of the cooler home theaters that have recently caught our eye.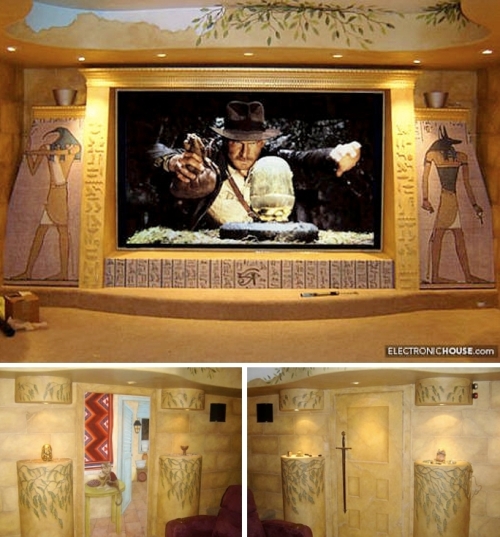 The Indiana Jones home theater-This beautiful indy-themed room was designed by home theater expert doug charrois for Larry and Colleen Halliday in Canada. It definitely has that "Raiders" feel and features replicas of the holy grail, Indy's jacket, hat, whips, torches and more, most notably the idol from the opening of the original movie. "Throw me the popcorn, I'll throw you the idol."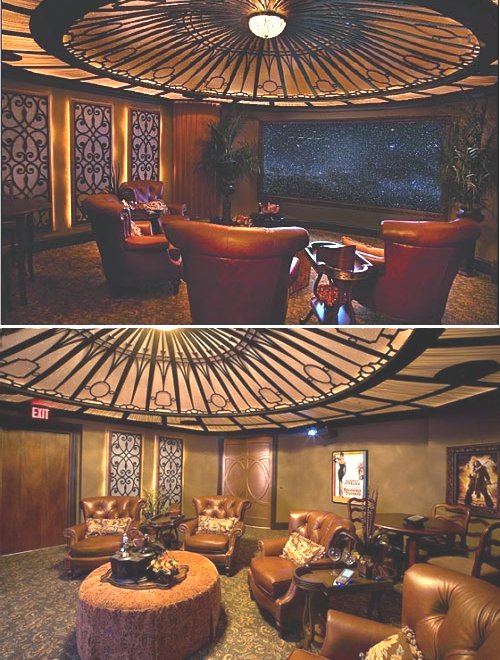 The Titanic-This Titanic themed set-up has a ceiling dome with 1230 fiber optic light strands that provide the artificial night sky. Entry to the bar next door is via a motorized bookcase. The project was designed by Donny Hackett of Casa Cinema Design. The only way this one could get better is if kate Winslet was there with you.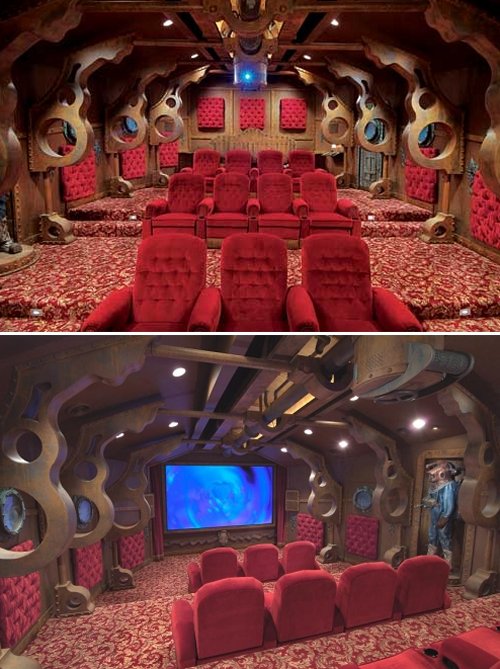 The Nautilus-Inspired by Jules Verne's classic novel. The Nautilus submarine from the film 20,000 leagues under the sea. The Nautilus home theater is another true work of art, designed by Dillon Works Inc. for Dallas-based dentist Randy Moran and his wife. It's nearly 900 square feet in all.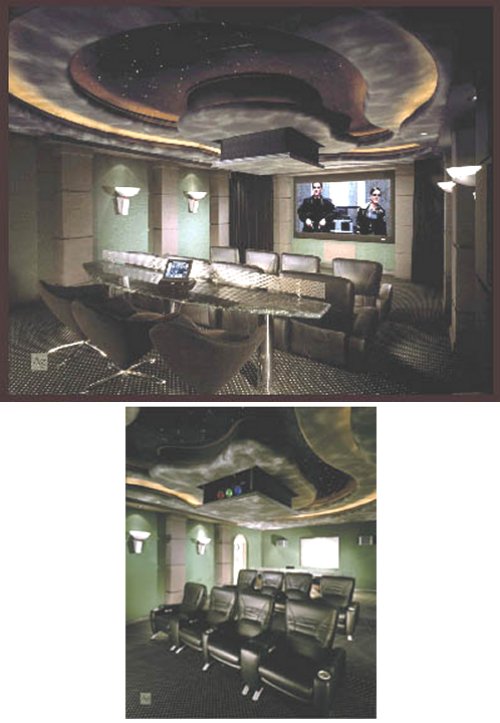 The Matrix-This one was made by Genesis Audio by a client who requested a home theater based on the movie The Matrix. To capture the spirit and feel of the movie, they studied the movie's settings and visual themes. Which of course means a color scheme primarily made up of greens and blacks to complement the technology that was installed.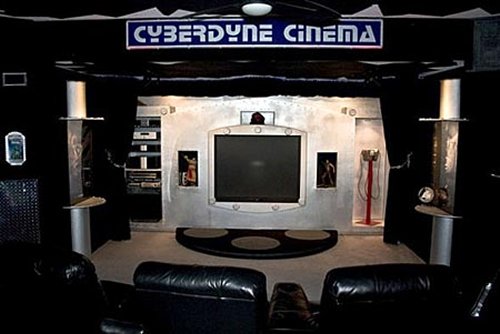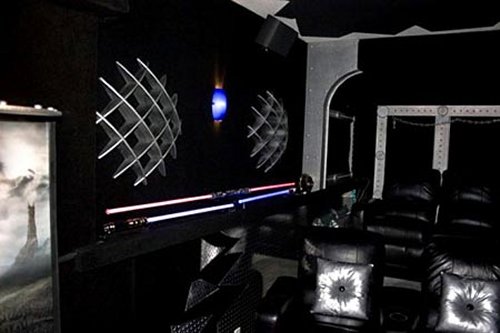 The Terminator home theater-When you aren't battling skynet to save the future, this would be a good place to kick back and watch John Connor get saved from Arnold. Darren Mortenson put it all together himself. The picture shows a television, but there's also a projector so he can watch movies at a cool 159″. Doing all the work himself even scored him CEDIA installer certification. All in all, it's pretty awesome. He got that SkyNet machine look down perfect.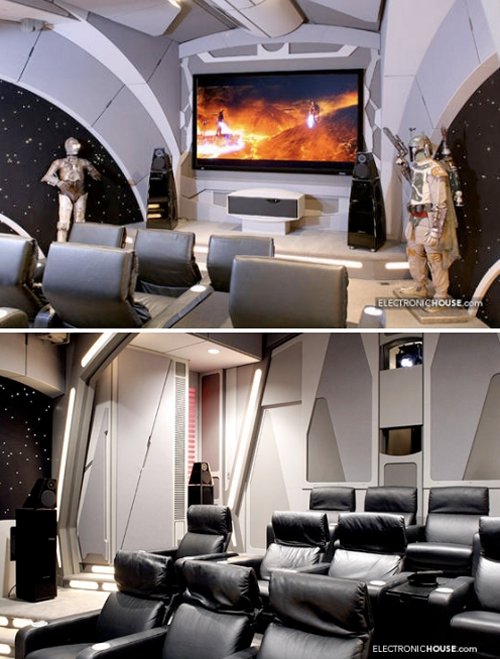 Death Star theater-Here's a Star Wars fan's dream theater. The 10-seat death star home theater was designed for Vic Wertz and Lisa Stevens and includes some pretty neat features: How about automatic doors and a twinkling fiber optic star field? The THX sound system was of course a requirement. It was actually designed by Doug Chiang, lead designer on episodes I & II.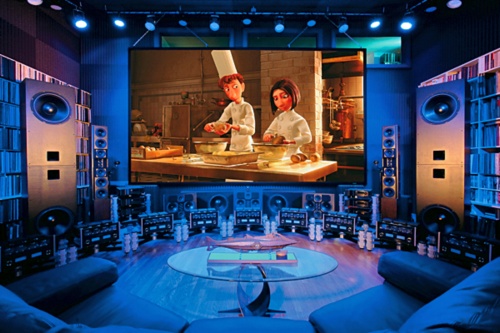 The six million dollar theater-Then there's the six million dollar theater. This one may not have a movie or Sci-fi theme, but the sheer scale of this baby is any geek's dream. How about a massive screen which showcases video projected from a Sony ultra-high-resolution (4,096-by-2,160) SRX-S110 digital projector?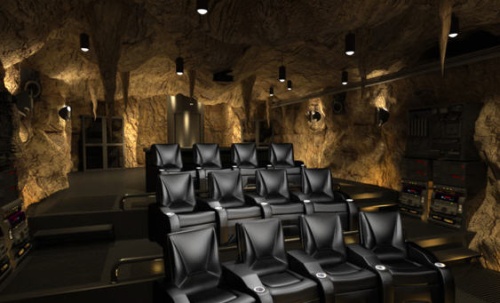 The Batcave-This is one of our favorites. And we even have the perfect phone to go in Wayne Manor above. The batcave is from Elite Home Theater Seating. After a hard day at work, just gun your batmobile through the cave wall as it closes behind you, park it and enjoy a good flick while Alfred serves the popcorn. Note: If you have a young ward as a sidekick, try not to be too mad if you catch him making out with catwoman here.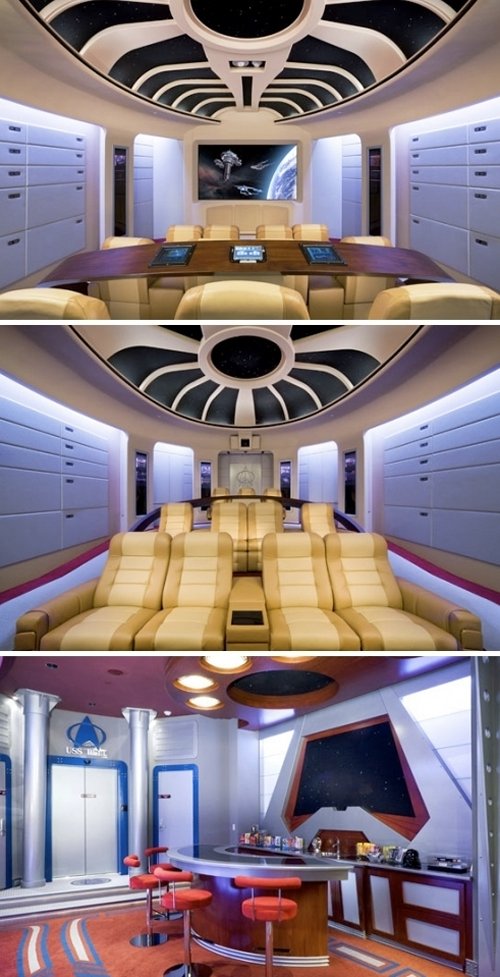 Star Trek Enterprise NCC-1701D-Captain Picard would be proud of this theater based on his ship. It has a theater, bar area and apparently "one of the largest kaleidoscope hard-drive based storage systems" in a residential installation. When they last counted there were eight servers with 3,816 DVDs. Even a red alert button that starts red flashing lights and tense music. Perfect place to invite Deanna Troi for a date.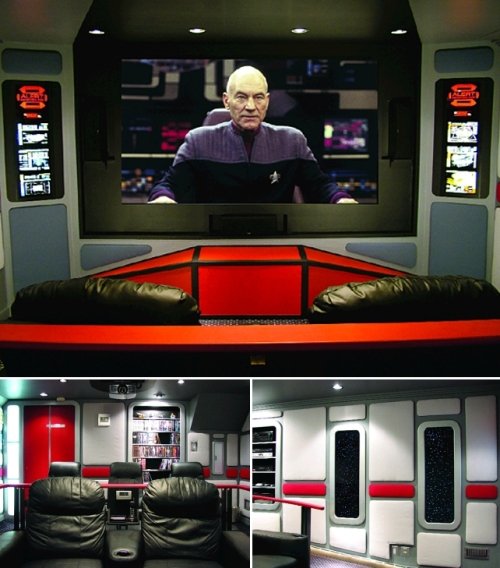 Original Star Trek bridge-This one was done on a small budget of $15,000 by a trekkie with a ton of time on his hands and a lot of determination. He cleared his basement to make way for the creation and it took 2 years from start to finish.
Evergreen ultimate theater-Here's another one based on the NCC-1701D bridge. It's said to be "one of the most technically and structurally advanced private theaters in the united states". It sure looks battle ready. It even has sliding doors, and the rich client paid around $3,000,000 in total for the it.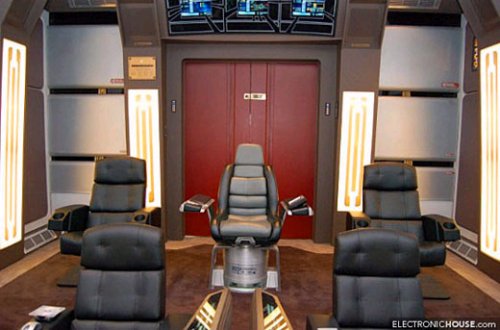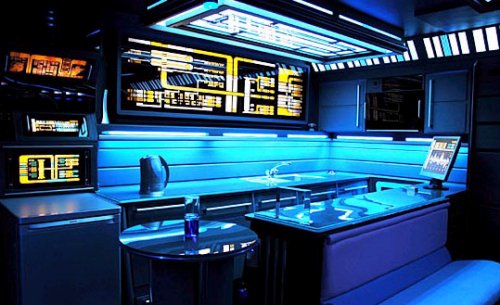 Realistic Star Trek Bridge-This one blends elements from various eras of Star Trek and is heavy on touchscreens, giving it a realistic look as if it's a ship we have not yet seen from the Trek universe.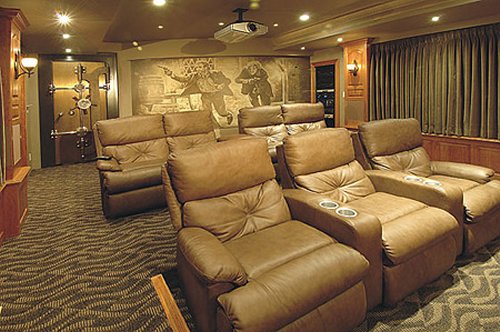 Sealed Vault Home Theater-This one was created by Connected Technologies. The "Vault" home theater room includes a giant bank vault door, cherry wood accents, a mural, and of course comfortable seating. It also boasts a 106-inch Da-Lite screen and Sony VPL-VW100 projector. This would be a good place for Al Capone or maybe even Trump to hang out.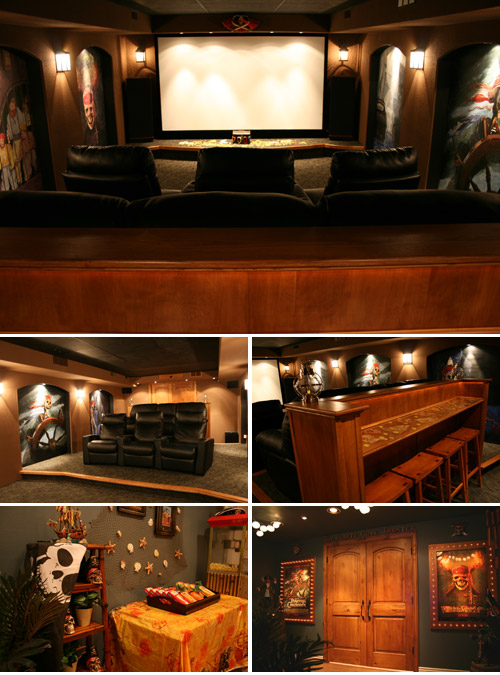 The Pirate's lair-This one came about as the result of avs forum user pkonold's love of the Pirates of the Carribean movies. He and his wife made sure that when seated "you feel like you are floating down the bayou at night". To complete that effect, they even have a star field in the ceiling, with real constellations and shooting stars! Arghhh!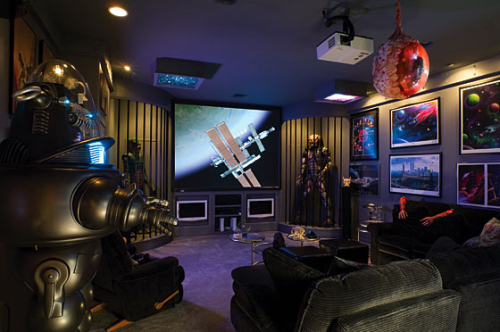 The Sci-Fi inspired theater-Inside Dr. David Winn's home theater you'll find a hydraulic alien in the wall, a talking Robbie the robot and both the predator AND the creature from the black lagoon behind bars. Can you say awesome? It all cost about $100,000.
Those are some serious geek dreams that came true. Me, I'll just have to use my imagination for awhile. If you know of, or happen to own a cool themed Theater, let us know. We'd love to add it to the list.
cinema, film, geek, Home Theater, list, movies, nerd, Sci-Fi, science fiction, Star Trek, themed, top 10