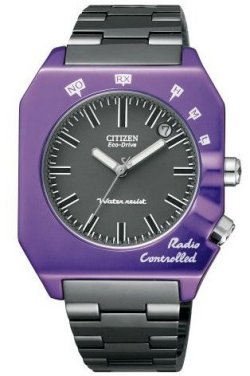 Citizen's Eco-Drive line of watches run on natural sunlight as well as any artificial light absorbed through the crystal and dial. They claim that it converts any kind of light into electrical energy and that runs the watch. As long as it gets regular exposure to light, the watch will continuously recharge itself for a lifetime. The Radio-Controlled aspect comes into play with the ability to have radio synchronization on demand, or you can let the watch do the synch automatically.
The Citizen Alterna VO10-6573H features a durable aluminum case and is water-proof up to 100m. The watch is 10.2mm thick and only weighs 104g, with an accuracy +/- 15 seconds a month . It's got a nice eye catching design overall, which it better have, since it will cost you $339.

It seems to come only in one color currently, which is purple. Though I'm not a fan of purple watches, this one looks pretty neat in that color. If they put out more snazzy colors I bet they would have a hit on their hands.
alterna, citizen, eco, solar, sunlight, watch