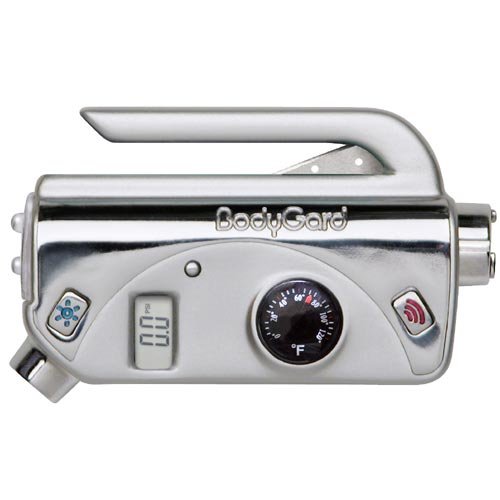 If you're the type who wants to be prepared for any eventuality, this Swiss Tech BodyGard Platinum 7-in-1 Multi-Function Emergency Tool may be your new best friend. Along with futuristic good looks, it sports an Automatic Glass Breaker, a Safety-Blade Seat Belt Cutter, Powerful Sonic Alarm, High Intensity High and Low Beam Bright White LED Flashlight, Digital Tire Gauge, a Thermometer and a Flashing Red Distress Light for Signaling and High Visibility.
It's powered by lithium batteries. To summarize, if you are stuck in your car for some reason, it will allow you to break your window, then cut your seat-belt and get out. Once out of the vehicle, you can alert the whole area with the sonic alarm, while you check out your dark surroundings with the high intensity flashlight. While you are waiting for others to see what the hell the noise is all about, check your tires with the gauge and stick a thermometer in your tailpipe burger. You know, so you don't get E-coli. Then just turn on the devices Red Distress Light and eat your dinner until help arrives. Yes, this device makes for an adventurous evening. I think I'll get one.

Buy one for about $24.
[Gadgetgrid] VIA [Gadgettastic]
Alarm, bodygard, digital, Distress, emergency, Flashlight, Glass Breaker, platinum, Seat Belt Cutter, Thermometer, Tire Gauge, tool