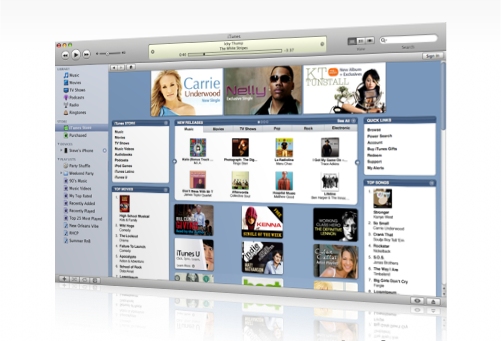 Apple's iTunes online music download service has moved into the number 2 position as the second largest U.S. music retailer, beaten out this time only by Wal-Mart. We had seen just last July that iTunes had moved into the number 3 spot, beating out Amazon and following both Best Buy and Wal-Mart, and the trend so far is continuing in Apple's favor.
According to a study by the NDP group Apple has now moved past Best Buy and kept Target at bay, taking a larger part of the online music sales. The online sales still accounts for only 10% of all music purchased in the United States (legal downloads that is). The study showed that physical CD sales continues to drop which is really no surprise here. I have no intention of ever buying a physical CD again, and apparently there's about a million consumers with me who also stopped buying CDs all together last year.
According to Apple, iTunes now sits with a whopping 50 million customers and has sold a total of over 4 billion songs during its existence. We have to wonder if Apple will be able to keep momentum enough to move into the number one music retailer, or even keep its place as number 2. With Amazon rolling out its new system recently having DRM-free music from all four big music labels, and many of them at a lower price than iTunes its hard to believe that Apple will stay ahead for long.
Apple, iTunes, MP3, music, music retailer, News