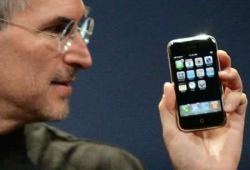 Apple sent out invitations to reports this week for press announcement concerning the details of the iPhone SDK. Jobs said it would happen in February and the date is set for next week on March 6 which we'll call close enough. The expected information will allow developers to create third party applications that will run on the iPhone and the iPod touch, ridding the need for the hack and fix battle that Apple has been dealing with this past year.
Any development interface provided will almost certainly be throttled to some point by Apple to help avoid the threat of viruses infecting the core system of the iPhone and spreading through these third party apps. Currently developers can make applications to run on the iPhone, but they all must be done through the Safari web browser which inherently houses many limitations.
Opening up the iPhone to developers will not only help with the illegal iPhone hacks but will also give the device more value to many users with a potentially larger offering of applications and the ability to build custom programs for individual businesses. This points the iPhone in a stronger running as a business tool against Windows Mobile and RIM's Blackberry. Apple also said they will be announcing some new business-centric features for the iPhone at next weeks talk.
iPhone, iPhone SDK, SDK, Steve Jobs