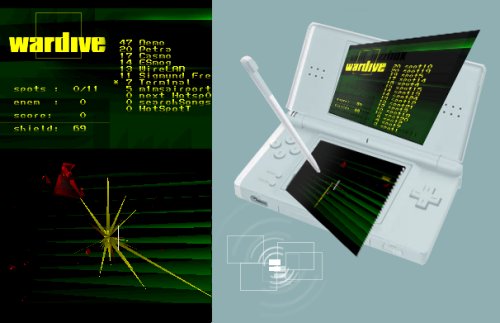 A new game for the Nintendo DS called Metro-Wardive, uses the built-in Wi-Fi to detect hotspot activity around you as usual, but in this case it uses it to generate a unique gaming environment. Wardive captures the wlans in the immediate area like a wardive-tool and creates a game, by reading the names of the hotspots in your immediate area and turning them into enemies which try to take over your wardive-cristal. You fend them off with your touch pen, put your shields up and don't just stay in one spot for very long.
The idea is to take metro-wardive for a walk through town and see how many enemies are hiding in the area you are in or pass through. Each time you play it captures different data and creates a new level for you.

For the moment, it's a "proof of concept" homebrew game that will require something like a supercard so it can load the game. You would think that game manufacturers would already be using the WiFi signals as a source of randomness or "chance" that effects gameplay, but this seems to be the first.
[Wardive] VIA [Gadgets-Weblog]