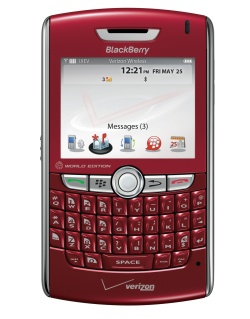 Verizon is adding a new color to its line up of Blackberry 8830s. Those wanting a little flair might find they like this red variation of this particular Blackberry model, available for around $300 after a rebate and two-year agreement.
New red color aside, this particular Blackberry 8830 World Edition Smartphone works much like any other Blackberry of its type. It is targeted towards world travelers, supporting EV-DO/GPRS network connections and GSM/GPRS (900/1800 MHz). It also has a large high-resolution color display and trackball navigation, among other external features.
Other noteworthy items on this particular Blackberry include audible turn-by-turn directions when in the United States, Bluetooth support, a media player and expandable microSD/SDHC memory. It will be available tomorrow online and Feb. 8 at Verizon stores.
Blackberry 8830 World Edition Smartphone
BlackBerry, Mobile Phones, Verizon