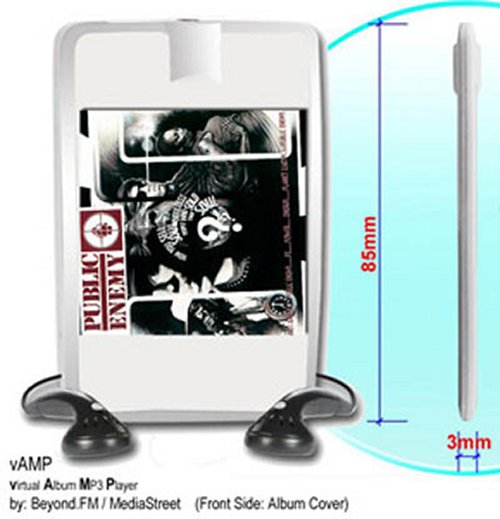 With plummeting CD sales, the music industry has been looking for ways to make more money, despite the fact that they still make a nice profit from the sales of digital media. In between counting their millions and crying crocodile tears, they found an ally in MediaStreet, who have announced the vAMP Virtual Album MP3 Player. It weighs just 0.7 ounces, and claims to be the "smallest, thinnest, fully functional MP3 player" They have high aspirations for it. MediaStreet intends for the vAMP to replace the CD.
The vAMP comes loaded with songs from an artist just like a CD, and even has album art on the front of the MP3 player as well as track listing and liner notes on the back. Inside it has 1 GB of storage, which gives you room to put other songs on the vAMP as well as transfer the ones that are there to your computer.

But wait, there's more…If you purchase the vAMP you will get access to BEYOND.FM and Mydigitalcontent.com. They are hoping that this will put songs back on store shelves and increase sales, maybe winning some lost customers back. The MSRP for the vAMP with preloaded content will be $27.99, and without pre-loaded content it will retail for $19.99 which is dirt cheap for an MP3 player, even if it doesn't have a screen.
[Chip Chick] VIA [Geeky-Gadgets]