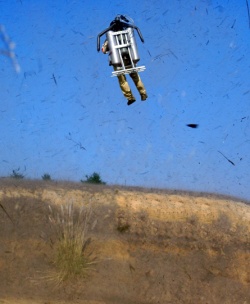 $100,000 can buy you a fair amount of video games in which you can pretend to fly around in. You could also sink that money into a prototype of Thunderbolt Aerosystems' new jet-powered ThunderPack.
Don't expect too much air time with this device – Thunderbolt says the ThunderPack has been tested to offer 75 seconds of flight time. On the positive, that is reportedly a 300 percent increase over what other systems offer. We, of course, did not realize the rocket pack market was suddenly something you could shop for at Sharper Image.
Thunderbolt Aerosystems founder Carmelo "Nino" Amarena (no relation) hopes to soon develop what he is calling the ThunderJet, which will deliver some ten-fold increase over "state of the art rocket belt capabilities." Ahh, mad men and their inventions are what make the world go around.