| | |
| --- | --- |
| | |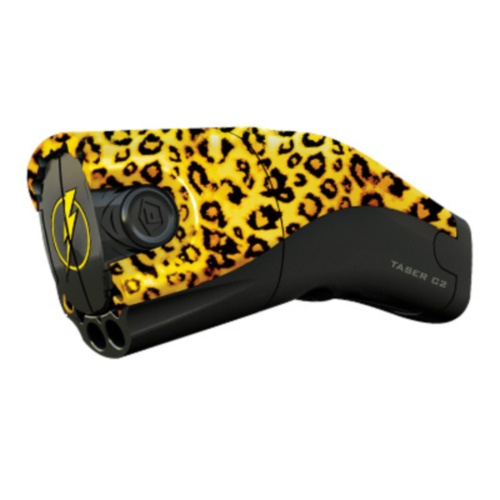 We aren't sure what shocks us more with this product announcement – the Taser itself or the fact it is outfitted in a leopard print. Either way you look at it Taser drew some attention at CES this week by unveiling this stylish (?) take on a way to zap your attacker. It is the latest addition to the company's C2 line up of personal protection devices.
Taser also was showing off a holster for your C2 which doubles as a MP3 player with 1GB of memory. That's right – you can stalk the streets at night, favorite rock song playing in your buds, as you zap bad guys all around town.
Read more about Taser's new gear after the jump.
TASER to Unleash New Leopard Print Personal Protection Devices
Company Also Will Unveil TASER Music Player Holster At the Consumer Electronics Show in Las Vegas
SCOTTSDALE, Ariz., Jan. 7, 2008 (PRIME NEWSWIRE) — TASER International, Inc. (Nasdaq:TASR), a market leader in advanced electronic control devices, today will unleash the new leopard print TASER(r) C2 personal protection device at the 2008 International Consumer Electronic tradeshow in Las Vegas, NV on Monday, January 7, at 10:00 a.m. PST.
In addition, TASER International will unveil the new, innovative TASER MPH (Music Player Holster) which is a combination MP3 player and TASER C2 holster. The 1GB TASER MPH allows for both personal protection and personal music for people on the go.
"These new product are a result of listening to our customers. Personal protection can be both fashionable and functionable," said Rick Smith, CEO and founder of TASER International. "The TASER C2 leopard print design provides a personal protection option for women who want fashion with a bite."
TASER International also will debut its new television infomercial starring John Bunnell, TV personality and host of World Wildest Police Videos, and featuring Ultimate Fighting Championship(r) star Eric Swiger, women's safety expert Kathleen Baty, and Maricopa County Sheriff Joe Arpaio. In its entirety, the 30-minute infomercial will directly educate consumers about the TASER C2.
In addition to the leopard print, other new TASER C2 colors include red-hot red and fashion pink.