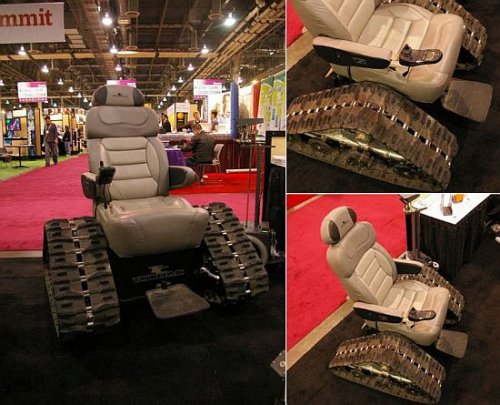 Disabled or not, this is the way to get around and tell people that you are the man. Pedestrians will be sure to either get out of your way or get crushed. Designed for the disabled, the Tank Chair is an off-road, all-purpose wheelchair that's turning a lot of heads at the CES show.
It's one tough chair and is built out of a one-piece steel chassis with the tracks made from rugged rubber and lightweight aluminum struts. It boasts a top speed of 5 mph, the Tank Chair Mk II has 24V, 2HP, 127RPM variable speed motor that gets its juice from four Optima Deep Cycle batteries.

The creator claims that the chair can even outpace a golf cart. Priced at $15,000, the Tank Chair is expected to be available later this month. It looks super comfy too. If you are going to ride around in a one man tank, you might as well be comfortable right? Just mount a cannon and you are good to go.