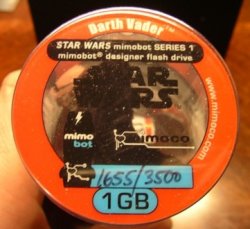 Star Wars USB drives are not new. We've covered them before, but now there are some limited edition versions that have Star Wars content pre-loaded on the drives themselves. Content like six trailers, wallpaper, icons, avatars, and sounds. They come in an assortment of characters like Darth Vader, Chewbacca, Stormtrooper, R2D2, Luke Skywalker, Boba Fett, Princess Leia, and Han Solo.
These are available for preorder now from 1GB to 4GB with prices ranging from $49.95 to $124.95. The fun doesn't end with the USB drive, they also throw in some fun mimobot stickers and a small carrying case is included as well.

Whether you are with the rebel alliance or the empire, order some already.