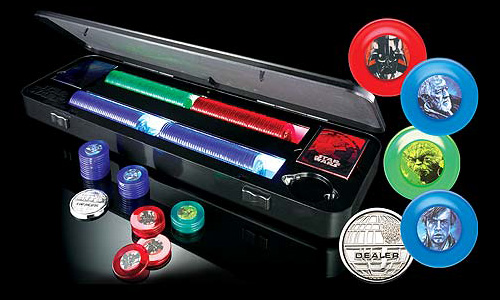 What happens in Bespin stays in Bespin. When you are taking in Cloud city, otherwise known as Bespin, and you sit at the table to play a round of cards hoping to score a Millenium Falcon, you don't want to use boring old poker chips. You want the power of the force. You'll need it too, players like Lando and Han are tough. How do you think they won the ship?
The set even features a chrome dealer token that looks like the Death Star, plus a set of translucent chips illustrated by artist Russell Walks. You get 50 blue Luke Skywalker chips, 50 blue Obi-Wan Kenobi chips, 50 green Yoda chips and of course 50 red Darth Vader chips. The case even has 72 LEDs that make the chips glow like lightsabers when they're stacked in their slots. Now that should make other players quake in their boots. The fun doesn't end there. You also get 2 casino-quality card decks that come in their own foil boxes.

You can find this at the Sharper Image for $149.95. A bit of advice. If you are playing against a Wookie, let the Wookie win. Otherwise he might pull your arms out of the sockets, ya know?
[Star Wars Poker Chips] VIA [Nerd Approved]
cards, casino, chips, darth vader, luke, poker, Sharper Image, Star Wars