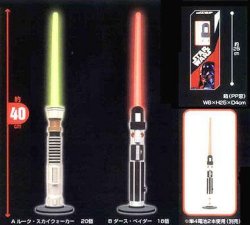 These Star Wars lightsaber lamps are just the thing for geek lighting in your humble abode. Plus, I would think they would be easy to grab should a Sith Lord or agent of the Empire suddenly attack you in the middle of the night.
They won't light up a whole room or anything, running on just AAA batteries, but they will emit a subtle LED glow. Just enough for visitors to sense a minor tremor of coolness in the force. They come in your choice of Jedi green and Sith red.

They stand 16″ tall and you can get yours for $23. I'm thinking one on each side of your Han Solo in Carbonite might look good.